Discover the power of being imperfectly present with your children, helping them develop mental, emotional, and spiritual resilience that will sustain them for a lifetime.

Like most parents, Amy and Jeffrey Olrick left the hospital with their first child desperate to know, "What do we do?" But years of parenting three kids and Jeffrey's work as a child psychologist convinced them to ask a better question: "How shall I be with this new person?"
This series of conversations facilitated by Cameron Trimble will introduce you to the Olricks and their foundational work. Through laughter, story-telling and honest reflection, you'll feel at home with the Olricks and ready to embrace the chance to be imperfectly present with your own children.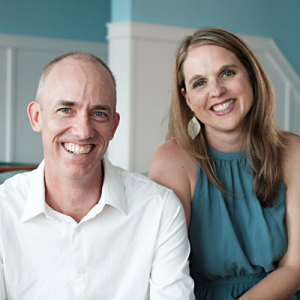 Meet your conversation partners!
Jeffrey Olrick, Ph.D. is a clinical psychologist who specializes in working with children and families. After earning his M.Ed. and Ph.D. at the University of Virginia, Dr. Olrick completed a two-year Fellowship at the Mary Ainsworth Child-Parent Attachment Clinic and now has over twenty years of experience in a variety of settings, including residential treatment, the public school system, community mental health and private practice.
Amy Olrick is an author and a techie who has spent her professional life working with organizations to build social movements grounded in the ethic of love. Her work and writing has been featured in The Guardian and USA Today, and she is an advocate for the global life-saving work of Help Refugees.

Check out these other Frontline Faith Offerings...
Frontline Faith: Your Home for Online Learning with the United Church of Christ.